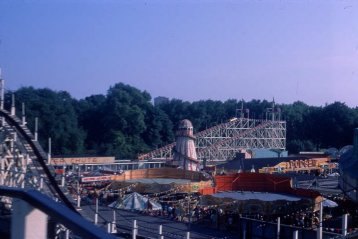 Photograph courtesy: Stewart Townsend
Battersea Fun Fair, London (UK), was a special place. Millions of Londoners would spend their weekends and bank holidays on the many rides and attractions, which included the famous Big Dipper roller coaster and the Water Chute. The park began as the Festival Pleasure Gardens, part of the 1951 Festival of Britain, and closed in the mid-1970s. Authors Robert Preedy and Nick Laister tell the full story of one of Britain's most fondly remembered amusement parks.
The book was published on 20th January 2020 and can be ordered exclusively from Joyland Books, The Home of Amusement Park Books.
Do you have memories, information, or photographs of Battersea Fun Fair that we could use in a reprint of the book? If so, please contact the authors. We would love to hear from you. Any submissions used will receive a credit in the book.